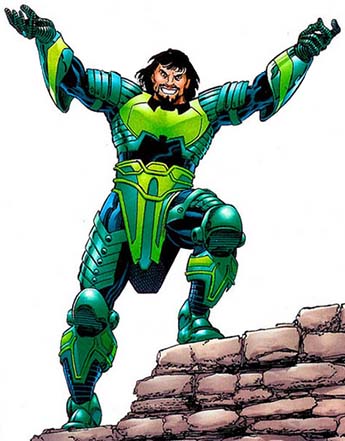 Religion of


Mordred the Evil


Sir Mordred

Religion: Druid/Celtic pagan; spirit

Name: Mordred the Evil
Alter Ego: Sir Mordred
Other Names: Mordred of the Northern Isles; Black Druid; Demon Druid; Dark Druid; Lore-Master; Medraut; Modred; Mordred the Magnificent
Classification:

villain
Publisher(s):

First Appearance: Black Knight (vol. 1) #1 (May 1955): "The Menace of Modred the Evil!"
Creators: Stan Lee, Joe Maneely
Number of appearances: 29
Foe of: Black Knight
Allies: Morgan Le Fay
Occupation: insurrectionist
Location: Camelot
Nation: England
Birth place: Orkney Isles, Britain
Gender: male
Note: was in Royal Court of Camelot
Mordred the Evil had power conferred upon his spirit after his death by Celtic nether gods. It is reasonable to conclude he was an active adherent of Celtic paganism before his death.

This character is in the following 9 stories which have been indexed by this website:


Black Knight


The Defenders (vol. 1) #152 (Feb. 1986): "The End of All Songs"
(cameo)

Suggested links for further research about this character:
- http://www.comicvine.com/mordred/29-19961/
- http://www.comicboards.com/marvelguide/m3.html
- http://www.marvunapp.com/master/mor.htm