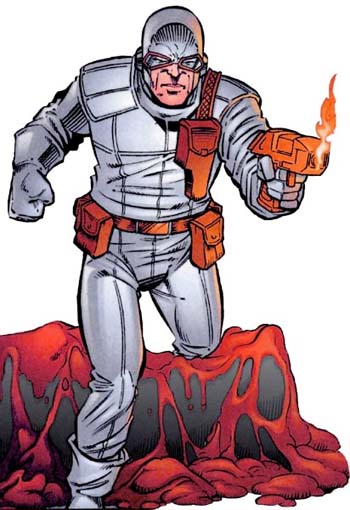 Religion of


Heat Wave


Mick Rory

Religion: pyromaniac/obsessed with fire; Zhutanian Buddhism (convert)

Name: Heat Wave
Alter Ego: Mick Rory
Classification:

supporting character

villain
Publisher(s):

First Appearance: Flash (vol. 1) #140 (Nov. 1963)
Number of appearances: 70
Comic book appearances: 69
TV, film appearances: 1
Foe of: The Flash
Location: Central City
Gender: male
Tired of his many failures as a super-villain and feeling truly repentant, Heat Wave retired from crime and devoted himself to study with Zhutanian monks. He hoped his religious devotion would cure him of his obsession with fire.
Eventually Heat Wave returned to criminal ways. It is unclear to what extent he retained the religious beliefs and practices he adopted while studying with the Zhutanian monks.
Presumably Zhutanian religion is a form of Tibetan Buddhism, but we need to do further research on this in order to verify this assumption. One can guess that "Zhutanian" is a word derived "Bhutanian." The state religion of Bhutan is Vajrayana Buddhism, i.e., "Tibetan Buddhism."

This character is in the following 4 stories which have been indexed by this website:


Catwoman


Outsiders (vol. 3) #50 (Nov. 2007): "You Killed the Outsiders!!"
(cameo)

Suggested links for further research about this character:
- http://dc.wikia.com/wiki/Mick_Rory_(New_Earth)
- http://www.comixfan.com/xfan/forums/showthread.php?t=28650
- http://www.hyperborea.org/flash/heatwave.html
- http://www.imdb.com/character/ch0056706/
- http://www.dcuguide.com/who.php?name=heatwave
- http://www.dcuguide.com/chronology.php?name=heatwave