Religion: Jewish Catholic / Green Lantern

Name: Green Lantern
Alter Ego: Hal Jordan
Other Names: Green Lantern II; Harold "Hal" Jordan; "Pol Manning", Parallax, Spectre, Air Wave, Human Starburst
Classification:

hero
Publisher(s):

First Appearance: Showcase #22 (Sep.-Oct. 1959): "SOS Green Lantern"
Creators: John Broome, Gil Kane, Joe Giella
Number of appearances: 2,529
Comic book appearances: 2,522
TV, film appearances: 6
Video game, computer game appearances: 1
Teams/Affiliations: U.S. Air Force; Green Lantern Corps; Justice League; Super Friends
Foe of: Hector Hammond
Allies: Carol Ferris, Pieface
Occupation: pilot, insurance salesman
Worked for: Ferris Aircraft
Location: Coast City
Gender: male
Note: test pilot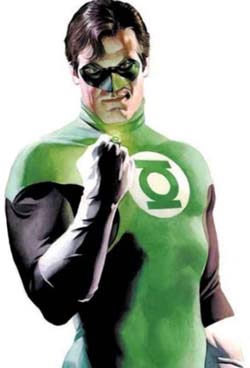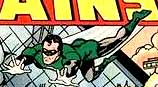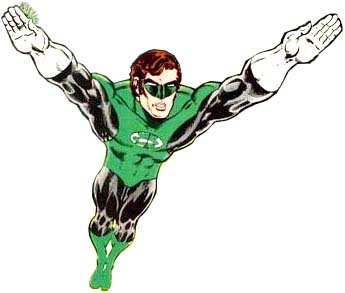 This character is in the following 175 stories which have been indexed by this website:


Action Comics


Action Comics Weekly

Adventure Comics (vol. 1) #459 (Sep. 1978): "The Call of the Cosmos"
(lead character)

America vs. the Justice Society #4 (Apr. 1985): "D-Day For Degation"

Aquaman Secret Files & Origins #1 (Dec. 1998): "Left for Dead"

Armageddon 2001

The Atom (vol. 1) #8 (Aug.-Sep. 1963): "Lockup In the Lethal Lightbulb"
(cameo)

Batman and the Outsiders

Batman: The Dark Knight #3 (May 1986): "Hunt The Dark Knight"
(mentioned)

Batman: The Return of Bruce Wayne #1 (Early June 2010): "Part One: Shadow on Stone"

Blasters Special #1 (Mar. 1989): "Blasters"
(cameo)

The Brave and the Bold

Brave New World #1 (Aug. 2006): "Look to the Skies..."
(cameo)

Catwoman (vol. 3) #77 (May 2008): "Waking Up On the Wrong Side of the Universe, Part Three"

Countdown to Infinite Crisis #1 (May 2005)

Darkstars #11 (Aug. 1993): "Escalation of Hostilities"

DC Comics Presents #26 (Oct. 1980): "Between Friend and Foe!"
(lead character)

DC Special #27 (Apr.-May 1977): "Danger: Dinosaurs At Large"
(cameo)

DC Special Series

DC/Marvel All Access #4 (Feb. 1997): "Savior"

DCU Infinite Holiday Special #1 (Feb. 2007): "A Hector Hammond Christmas"
(lead character)

Deathstroke, the Terminator

Detective Comics (vol. 1) #347 (Jan. 1966): "The Strange Death of Batman"
(2-panel cameo)

Final Crisis #7 (Mar. 2009): "New Heaven, New Earth"

Green Lantern

Green Lantern Corps Quarterly

Hawkman (vol. 3) #2 (Oct. 1993): "Dead End"

The Joker #7 (May-June 1976): "Luthor -- You're Driving Me Sane!"
(cameo)

Just Imagine Stan Lee With Chris Bachalo Creating Catwoman

Justice League America #70 (Jan. 1993): "Grieving"
(8-panel cameo)

Justice League Heroes (10 Oct. 2006)

Justice League of America

Justice League: Cry for Justice

Justice Society of America

Legends #1 (Nov. 1986): "Once Upon a Time...!"
(toy)

Outsiders: Five of a Kind - Wonder Woman/Grace #1 (Oct. 2007): "Five of a Kind, Part 5: Member of the Tribe"

Secret Society of Super-Villains

Showcase

The Spectre

The Super Friends

Teen Titans (vol. 1) #25 (Jan.-Feb. 1970): "The Titans Kill a Saint?"

Unlimited Access #4 (Mar. 1998): "Combined Forces"
(character based on)

World's Finest Comics

Suggested links for further research about this character:
- http://www.adherents.com/lit/comics/GreenLantern_II.html
- http://www.comicvine.com/hal-jordan/11202/
- http://www.comicbookdb.com/character.php?ID=35
- http://www.comicbookdb.com/character.php?ID=71
- http://www.comicbookdb.com/character.php?ID=72
- http://www.dcuguide.com/profile.php?name=greenlantern2
- http://www.dcuguide.com/chronology.php?name=greenlantern2
- http://www.imdb.com/character/ch0030789/
- http://www.imdb.com/character/ch0000232/
- http://www.comics.org/issue/15200/
- http://www.comicbookdb.com/issue.php?ID=6349