Religion: Catholic

Name: Lois Lane
Other Names: Lois Joanne Lane-Kent; Superwoman
Classification:

supporting character
Publisher(s):

First Appearance: Action Comics (vol. 1) #1 (June 1938): "Superman, Champion of the Oppressed!"
Creators: Jerry Siegel, Joe Shuster
Number of appearances: 3,859
Comic book appearances: 3,447
TV, film appearances: 408
Video game, computer game appearances: 4
Allies: Superman, Jimmy Olsen, Perry White
Occupation: reporter
Worked for: Daily Planet
Gender: female
Note: Superman's girlfriend, then wife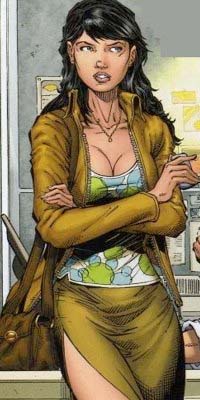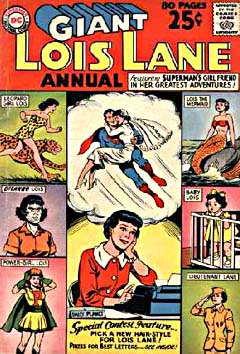 This character is in the following 247 stories which have been indexed by this website:


Action Comics


The Adventures of Superman

America vs. the Justice Society #2 (Feb. 1985): "Trial by Congress"

Ash

Batman (vol. 1) #293 (Nov. 1977): "The Testimony of Luthor!"
(1-panel cameo)

Batman and the Outsiders (vol. 1) #19 (Mar. 1985): "Who's Afraid of the Big Red S?"

Blood Syndicate #16 (July 1994): "Toys of the Gods"

Daredevil (vol. 1) #353 (June 1996): "The Devil's Work!"
(cameo)

The Daring New Adventures of Supergirl

DC Comics Presents Annual

Genesis #1 (Oct. 1997): "Resonance"

Harley Quinn

Joker: Last Laugh #5 (Dec. 2001): "Mad, Mad World"
(mentioned)

Justice League America #70 (Jan. 1993): "Grieving"
(5-panel cameo)

Justice League of America

Justice Society of America

Last Days of the Justice Society of America Special (1986): "The Last Days of the Justice Society"
(cameo)

Lois & Clark: The New Adventures of Superman

Magog #3 (Jan. 2010): "Anger Management"
(name seen in illustration (or on screen))

The Man of Steel

Marvel Knights Spider-Man #4 (Sep. 2004): "Down Among the Dead Men: Part Four"
(1-panel cameo)

Megaton Man

New York World's Fair Comics

Outsiders

Secret Society of Super-Villains #14 (Apr.-May 1978): "Crisis on Earth-3 (Reprise)!"

Superboy (vol. 3) #7 (Aug. 1994): "Menace 2 Societies!"

Superman

Superman's Girl Friend, Lois Lane

Superman/Batman: Public Enemies (2009)
(cameo)

Superman: The Man of Steel

Teen Titans / Outsiders Secret Files 2003 (Dec. 2003): "Who Was Donna Troy?"
(cameo)

Teen Titans: Year One #5 (July 2008): "Young Heroes in Love"
(photo/picture/video)

World's Best Comics #1 (Spring 1941): "Superman Vs. the Rainmaker"

World's Finest Comics

Young Heroes In Love #17 (Oct. 1998): "Squishy They Were and Golden Eyed!"
(cameo)

Suggested links for further research about this character:
- http://www.adherents.com/lit/comics/Lois_Lane.html
- http://en.wikipedia.org/wiki/Lois_Lane
- http://www.comicvine.com/lois-lane/29-1808/
- http://www.comicbookdb.com/character.php?ID=1570
- http://www.imdb.com/character/ch0000198/
- http://www.dcuguide.com/who.php?name=loislanega
- http://www.dcuguide.com/chronology.php?name=loislanega
- http://www.dcuguide.com/who.php?name=loislanesa
- http://www.dcuguide.com/chronology.php?name=loislanesa
- http://www.dcuguide.com/who.php?name=loislane
- http://www.dcuguide.com/chronology.php?name=loislane
- http://www.marvunapp.com/master/loglorc.htm
- http://dc.wikia.com/wiki/Lois_Lane_(Earth-Three)
- http://www.comics.org/issue/293/
- http://www.comicbookdb.com/issue.php?ID=95