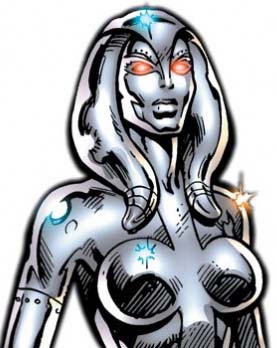 Religion of


Jocasta


Religion: N.A.

Name: Jocasta
Other Names: Salvation-2; Bride of Ultron; Queen of Thebes; Jo; Salvation Two
Classification:

hero
Publisher(s):

First Appearance: The Avengers (vol. 1) #162 (Aug. 1977): "The Bride of Ultron!"
Creators: Jim Shooter, George Perez, Pablo Marcos
Number of appearances: 142
Teams/Affiliations: Avengers; Initiative: Mavericks; Mighty Avengers
Gender: female

This character is in the following 26 stories which have been indexed by this website:


Assault on New Olympus Prologue #1 (Jan. 2010) (6-panel cameo)


The Avengers


Avengers Academy #38 (Dec. 2012): "Crosstown Rivals"

Daredevil (vol. 1) #275 (Mid-Dec. 1989): "False Man"
(cameo)

Marvel Super-Hero Contest of Champions #1 (June 1982): "A Gathering of Heroes!"

Marvel Two-in-One (vol. 1) #92 (Oct. 1982): "This Evil Returning -- !"
(lead character)

The Mighty Avengers

Moon Knight Saga (Oct. 2009)
(1-panel cameo)

What If? Astonishing X-Men #1 (Feb. 2010): "What If Danger Became a Bride of Ultron?"
(cameo)

Suggested links for further research about this character:
- http://en.wikipedia.org/wiki/Jocasta_(comics)
- http://www.marvel.com/universe/Jocasta
- http://www.comicbookdb.com/character.php?ID=32794
- http://www.comicvine.com/jocasta/29-3318/
- http://www.marvunapp.com/master/jijom.htm
- http://www.comicboards.com/marvelguide/j.htm