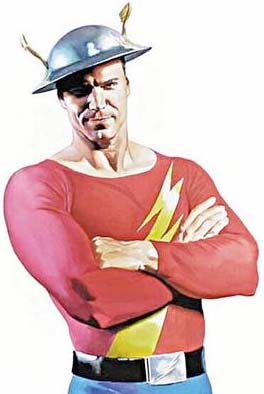 Religion of


The Flash


Jay Garrick

Religion: Christian (denomination unknown)

Name: The Flash
Alter Ego: Jay Garrick
Other Names: Flash I; Jason Garrick
Classification:

hero
Publisher(s):

First Appearance: Flash Comics #1 (Jan. 1940): "Origin of the Flash"
Creators: Gardner F. Fox, Harry Lampert
Number of appearances: 687
Comic book appearances: 684
TV, film appearances: 3
Teams/Affiliations: Justice Society of America
Gender: male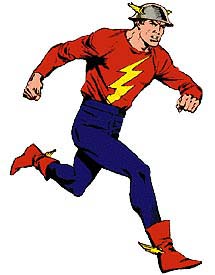 This character is in the following 103 stories which have been indexed by this website:


All-Flash


All-Star Comics (vol. 1) #2 (Fall 1940): "The One-Man Newspaper"
(lead character)

America vs. the Justice Society

Brave New World #1 (Aug. 2006): "Look to the Skies..."
(cameo)

Catwoman

Flash Comics

JSA

JSA vs. Kobra

Justice League America #70 (Jan. 1993): "Grieving"
(3-panel cameo)

Justice League of America

Justice League: Cry for Justice

Justice Society of America

Last Days of the Justice Society of America Special (1986): "The Last Days of the Justice Society"

Magog

The Order (vol. 1) #5 (Aug. 2002): "Blinded by Science"
(cameo)

Outsiders

Secret Society of Super-Villains #12 (Jan. 1978): "The Plunder Plan!"
(cameo)

Showcase #4 (Sep.-Oct. 1956): "Mystery of the Human Thunderbolt!"
(photo/picture/video)

Teen Titans / Outsiders Secret Files 2003 (Dec. 2003): "A Day After"

Young Heroes In Love #3 (Aug. 1997): "Two Hearts Beat as One Giant Undead Guy"
(mentioned)

Suggested links for further research about this character:
- http://www.adherents.com/lit/comics/Flash_I.html
- http://www.comicvine.com/jay-garrick/29-2395/
- http://www.dcuguide.com/who.php?name=flash
- http://www.dcuguide.com/chronology.php?name=flash